Where the uninitiated dater soon learns how quickly the unexpected becomes expected
After being married for 24 years and single again, I found myself venturing into the world of online dating. After all, the ads on TV for finding that wonderful new man seemed so reassuring. I knew I would not fall into any traps normally experienced by pubescent teen girls suffering from anorexia or low self-esteem, who readily agreed to meet strange men at malls or motels and leave home with these Jack the Ripper types.
I decided to enroll myself in various online dating websites just to see what would happen. Initially, I found not much happens. There are chat rooms where status seekers are stroking each other's brains trying to one-up each other with their wit and cleverness ta ta.
Then there are the bulletin boards where people post messages for help on topics such as asking where to go to meet the opposite sex, or wanting to know if there is anything wrong with the way their online profile or pictures appear. 
The online dating sites let you specify if you are a woman seeking a man or a woman and vice versa. There are no moral blocks preventing anyone from fantasizing about any sexual persuasion, but the main thrust is for people to contact each other directly using online tools.
However, not everyone is assertive in contacting a potential mate, so there are aids for the contact-impaired, such as hot lists, flirts, e-cards, double clicks or hearts that you can send the person of interest. Some of the teasers are anonymous, so if the person does not reply back, then they never knew it came from you.
But of course, the bulk of participants at the online dating websites are free members, which means they never receive your online teaser beckoning them for a response, leaving you feeling totally undesirable.  There are also the members who refuse to upload a picture of themselves, which they claim is for privacy from their clients, or who knows, maybe to hide from their wives.
The most frequent complaint on all the dating websites is the use of outdated pictures. Many pictures being uploaded are 10 to 20 years old. Men who refuse to post pictures are best to ignore. On several occasions, I asked these men for their pictures and nearly fell out of the chair from shock when their pictures arrived by e-mail as these men were truly unattractive.
 My first online date was with a man who said he had been divorced for 14 years and a member of online dating for 12 years. This surprised me as I had not known online dating had been around that long. We met at Panera Bread for coffee after dinner, but he did not like coffee and explained why. Then he proceeded to grill me with questions like, had I considered what it would be like to have sex with a different man other than my husband?
Perhaps I did not appear as responsive to questions about sex as my coffee date had hoped, but as we were leaving, I turned to ask him if he wanted to get together again, but he was already sprinting across the parking lot to his car.  
My second online date was at a restaurant where I had agreed to meet a different man for drinks and an appetizer. He said he was excited to meet a compatible woman like myself without having to drive long distance. He explained he had never been married, but a tryst a dozen years earlier had produced a child. After an hour's conversation, he suddenly realized he knew my ex-husband and described several unpleasant encounters with him.
He said he had not been this uncomfortable since a transvestite had propositioned him. I was uneasy with the comparison to a transvestite, and realized our date was dissolving faster than I could finish my drink. He asked that we leave and never speak of this meeting again.  
My third online date was with a doctor who wore his sorrow on his face. He and his ex-wife were never able to have children and he tried to fill the weekends with occasional visits to a night club featuring line dancing. But he found it a very lonely experience and wanted to do nothing more than move back to New York to live and work near his parents. 
Although I sent out e-cards and e-mails and asked the various online men if we could have an instant chat, most of them did not respond. Later I realized it was because they were not paying members. But oftentimes, the paid members would ignore me as well. Without exception, the men who professed to be writers, editors, or journalists in their profiles, never wrote me back, and the men who wrote the short profiles were more likely to write back and want to open communication.  
The ones who responded wanted to talk on the phone, so sometimes we did. One man from Florida had figured out in our only conversation that we could stay at his house in the winter and live in my house during the summer. He asked questions about square footage and the value of my home and as I began to feel he was really a creepy character, the phone battery went dead and mercifully ended our phone call.
Most of the men who hot listed me or sent me flirts were in their 20's or 70's. It seemed the men inbetween were not inclined to utilize flirts as a means of contact. I asked my girlfriend why this was so. She explained, "The flirts represent men at both ends of life . . . the young ones for what they want and the old ones for what they can't have."
I even received an online flirt card from a woman. At first I thought she must have made a mistake, since if I had made such a mistake, I would have retracted it or sent an apology. But out of curiosity, I read her profile. Although she listed herself as looking for a man, she had never been married and worked as a doctor in youth camp programs. She looked like a really cute tomboy with a too short haircut. I decided the flirt was probably genuine though I did not respond.
Then I met Rob online in an instant message. He had initiated contact and was really interested in knowing everything about me.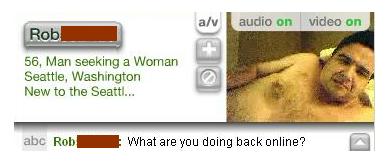 Rob knew all the right things to say and do. We had a four hour instant message that night, where he was polite and told me about his parents in Rochester, New York. He explained he had just moved to Seattle and was living in a hotel.
Rob was the first man at a dating website that I had spoken with who had a web-cam, so he would ask me questions and I would type my answers back to him.  He was reclining on what first seemed like a sofa, then I realized he was in bed typing on a laptop.
Rob was covered with a sheet which seemed to unobtrusively slide lower as the night progressed, though he never commented on it. Finally, I logged off to go to bed, but Rob had signaled me for one more instant message. But this time, the sheet was gone as were his clothes. Rob's heavy panting came through my computer speakers as the web-cam was now pointed directly at his groin, where he was rapidly relieving himself. 
The next week, Rob sent many apologies for the sheet accident which I ignored, as it never should have happened. But venturing into online dating is like hunting for a man in a big city. There are good areas to look in and bad areas to stay out of, but online dating can lead you more quickly into unsuspecting troublespots than you can ever imagine.
Skeptically yours,
          Mim