How many human traffickers use Instagram to recruit?  There may be at least two ways that sex traffickers use recruitment methods on Instagram. The first method is recruiting young girls to abuse and exploit. By this, the pimp entices underage youth to visit his profile page. How do they do this? His account will consist of photos illustrating luxury items such as handbags or shoes, fancy clothes and expensive places to shop. Clearly this illustrates someone who is very deceptive. In another specific example, an accused criminal previously used this social media application to entice girls and young female adults by showcasing photos of his lifestyle on instagram. Traffickers will also lure the minor by directly contacting him or her through messenger on Twitter or Facebook. 
The second method may be soliciting to wealthy clients who are willing to pay to sleep with these women. In this case, the gang member may post multiple photos of 'sexy' females (of any race) to persuade the purchaser (his clients) to buy or 'shop' his property.
Below is a possible example of what a human trafficker's profile page could look like, or that created by one of his gang members. In this example, he clearly solicits these women by stating in the description, "DM for hookup". He may be attempting to lure rich men to visit this account in hopes of getting contacted by them via DM or Direct Message.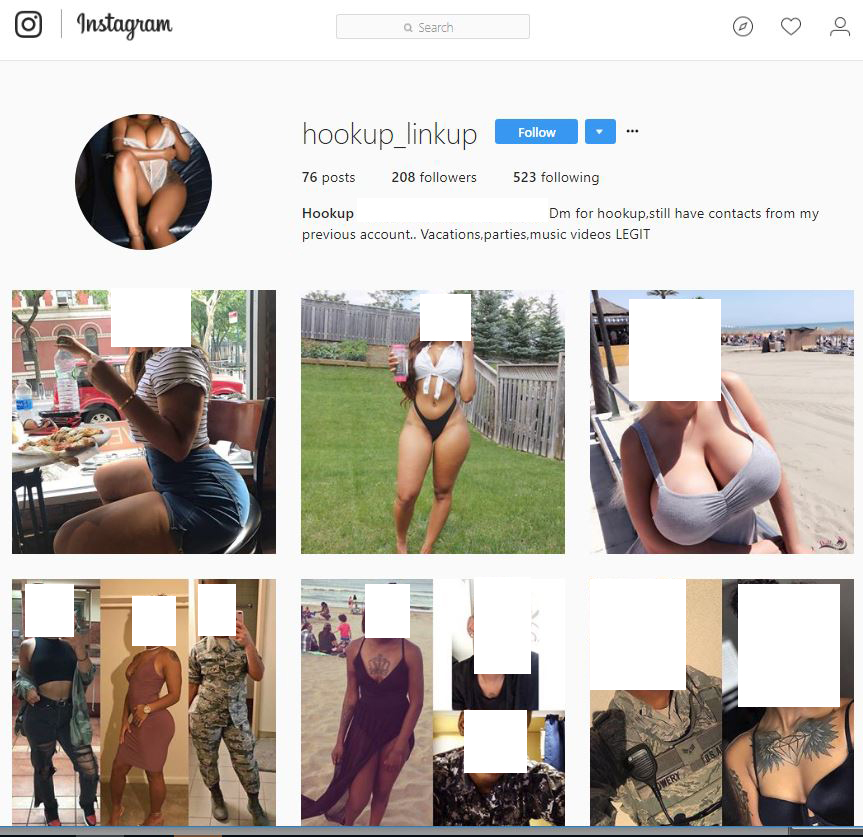 So how can we tell if the black woman in the picture below is a victim of human trafficking and slavery? We may never know for sure, however look closely and you will notice a few tattoos on her body. Specifically a large tattoo of a king's crown marked on her chest. From published articles across news channels, we can gather that this woman has possibly been marked by her pimp to identify the fact that he owns her.
What hashtags would a pimp use in his posts? In this example, he uses the following: #rich #money #luxury #ass #sexy #boobs.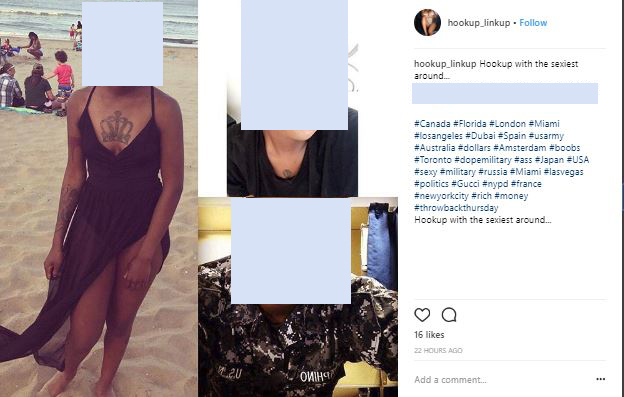 Why are so many women on his details page dressed in military uniform? Is it possible that this pimps' goal is to find wealthy clientèle who have a fetish for women dressed up as a soldier?
Have you found suspicious activity on someone's Instagram, Snapchat, Facebook, or Twitter? Report it immediately to local authorities or nonprofit organizations by sending them an email with a screenshot picture of the profile page. Or, you may email us SkepticalWorld@gmail.com
Reference:
VentureBeat: Lure Vulnerable Teenagers into Sex Work
DailyMail.co.uk: Suspected Sex Trafficking Using Social Media to Display Luxury Lifestyle with Louis Vuitton Bags and Lobster Dinners
Forbes: Life and Times of an Accused Human Trafficker