Senseless killing with illegal firearms in afterhours illegal Detroit bar is "Proof" that you can take the Rapper out of the ghetto, but you can't take the ghetto out of the Rapper.    
Deshaun Holton, better known as rapper "Proof" was shot dead after fatally wounding his friend in a fight.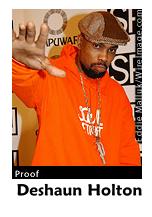 The 32-year-old D12 rapper was rushed to Holy Cross Hospital in a private vehicle after being shot once in the head and twice in the chest, but was pronounced dead on arrival on April 11, 2006. The second victim, 35-year-old Keith Bender, was on life support at St. John Conner Creek Hospital after being shot in the face by Proof but died a week later on April 18.
Police allege that Bender's cousin, Mario Etheridge, shot Proof for shooting his cousin Bender in the face. Etheridge was charged Friday with carrying a concealed weapon.
Bender, who was discharged from the Army due to a heart condition, was at the C.C.C. club to celebrate that he no longer needed a defibrillator for a heart condition, according to his sister-in-law. So, of course, everyone knows that getting drunk with a bad heart condition is dangerous, but this did not matter to Bender.
The shooting incident occurred at club C.C.C. along Eight Mile Road at around 4:30 a.m., or 2 1/2 hours after bars are supposed to close under Michigan law. The bar is located on a road immortalized by Proof's longtime pal Eminem in his hit semi-autobiographical film, Eight Mile.
The bar is in a very bad section of Detroit where most people do not go after dark unless they are involved in some nefarious behavior, such as afterhours drinking, drugs or prostitution.  
Proof was gunned down at approximately 4:30 a.m., after the bar remained open illegally past its regular business hours. According to Detroit police spokesman Sergeant Omar Feliciano, Proof was the first one to draw a gun and started shooting at Bender after the two men got into a heated argument. It was not stated what the men were arguing about.
Investigators were still trying to sort out who fired the fatal shot that struck Proof in the head, killing him. Police said that a man has turned himself in to police for questioning, but it was not immediately known if he was a suspect. His identity was not revealed.
Proof was not licensed to carry a concealed weapon in Michigan. Proof was credited with having taught singer Eminem everything he knew about being a rapper.  Proof also stood up as best man in Eminem's recent remarriage to his ex-wife. Proof is survived by five children.
Toting an illegal firearm, hanging out at an illegal, afterhours bar, getting drunk, and shooting up the joint, are all "Proof" that you can take the Rapper out of the Detroit ghetto, but you can't take the ghetto out of the Rapper.
Update:  Since this article was uploaded in 2006, there was nothing in the news suggesting any charges would be made against this afterhours illegal club operation.
Skeptically yours,
          Mim