Army Ranger Pat Tillman age 27 was shot and killed in Iraq a month after enlisting on April 22, 2004. This $18 million dollar a year pro NFL football player, who graduated from Arizona State University, opted to enter the military instead of continuing his football career. Promoted to Corporal posthumously, Pat Tillman had an excellent career for himself playing for the Arizona Rangers. My cousin Ed,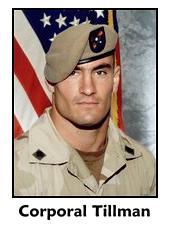 who is retired from the Navy and the National Guard, follows the military scene news and explains the Pat Tillman cover-up this way.  Ed wrote: Here is the deal with with Pat Tillman the professional football player who was killed by friendly fire.  He could have been killed by a bullet from his  brother's gun. His brother was fighting in the same group of fighters and his  brother and the part of group he was in fired on the other American including  his brother. They were reporting they were friendly and Americans but the commander kept the group firing.
 
Then there seems to be a cover up that started on the ground and worked its way all the way to Washington so they could make this Tillman a hero and bring support to the war effort.
 
I think it stretched all the way back to Rumsfeld who probably told the  Pentagon that he wanted nothing to do with it but would not stand in their way if they created a story out of it.
 
Tillman's parents and his brother are behind the push to have it investigated.
 
His brother was one who spilled the beans on the commander on the ground.
 
It is sad, but interesting.
 
This Administration is so incompetent and arrogant.
 
They are as bad as Clinton and his group, maybe worse.  Always claiming to support the troops, but not providing body armor at first and  armored Humvees at first.
 
The Republicans are supposed to be supporters of troops. They are supposed  to be for fiscal restraint. They are for neither at the moment.
 
How about the soldier who had to pay for his sleeping bag that was torn as  he used it in the war?  What was he supposed to do?  Put it on the  shelf and not use it so it would be unused in perfect condition when he  turned it in.
 
The Republicans have become as bad as what they have painted the Democrats to be. 
 
Both political parties are hindering the beauty and growth of our  nation.
 
Sometimes I think that the political parties are as bad as Organized Religion.
 Update:  Since this article was first uploaded shortly after Coroporal Tillman's death, there was a concerted effort to squelch information leaking out that he was accidentally shot and killed by his own brother. The cover-up has resurfaced and will probably smolder for a long time to come.
Skeptically yours,
          Mim