Peter Gotti's Mob Girlfriend Found Dead
A blonde 43 year old divorcee named Marjorie Alexander was found dead on March 31, 2004 by Red Roof Inn cleaning staff.
The woman who claimed to be Peter Gotti's lover, was found lying on the bed with an empty bottle of sleeping pills on the nightstand, with a plastic bag over her head taped to her neck with duct tape.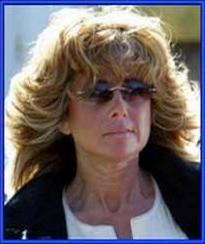 Nassau County police detectives pointed out the empty bottle of pills and the suffocation as proof of the suicide. Police later announced there would be no further investigation necessary since they said there was obviously no crime committed. Skeptical World  suggests these gumshoe detectives need better training and could start by watching some TV shows, such as CSI or Forensic Evidence to find out how to analyze a crime scene.
Or perhaps the police department employs too many members of the Gotti family.
Peter Gotti is a Mob boss facing up to a 15 year prison sentence for racketeering. Pending Peter Gotti's 15 year prison sentence, perhaps he did not want any other men to have his girlfriend and perhaps he arranged her murder from jail. 
Peter Gotti's wife was quoted in the news as saying three good things had happened to her during 2003. First, her husband was arrested, second he was convicted, and third he was going to prison.
Skeptical World   wants to know if the Nassau County Police Department has been paid off by the Gotti Family to cover-up this crime as a suicide? Has anyone questioned why the cleaning staff checked the room so late in the afternoon close to dinnertime, which is not a usual time for any hotel service to clean rooms?
Has anyone questioned how a woman who supposedly ingested an entire bottle of sleeping pills (not verified because no autopsy was done) would then lay quietly on a bed while sucking the last 5 or 6 breaths of air out of a bag and not thrash around involuntarily?
Skeptical World wonders if Alexander wasn't already dead when the plastic bag was duct taped to her neck?
Skeptical World   would like to point out that death by duct tape is not a method of suicide. In fact, duct tape is historically known as a standard tool in gangland slayings when the Mob or gangsters want to kill someone. Hint for the Nassau County police detectives:  Women use nail tape for repairing broken fingernails, not duct tape. There are no women anywhere in America who carry duct tape in their purses for repairing broken fingernails.
Update: This story was originally uploaded on 5/6/2004. A week later in my small town 3 states and 600 miles away from this crime scene, there was a van ahead of me with New York license plates which read, "Gotti2." Coincidence or not?
Skeptically yours,
          Mim