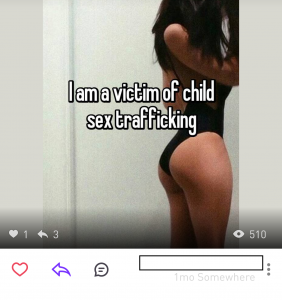 Did you know minors can get recruited into sex trafficking by using phone apps like Whisper? This is one of the most popular social media phone applications used by kids, teens, and adults right now.  What is Whisper and how do you use it?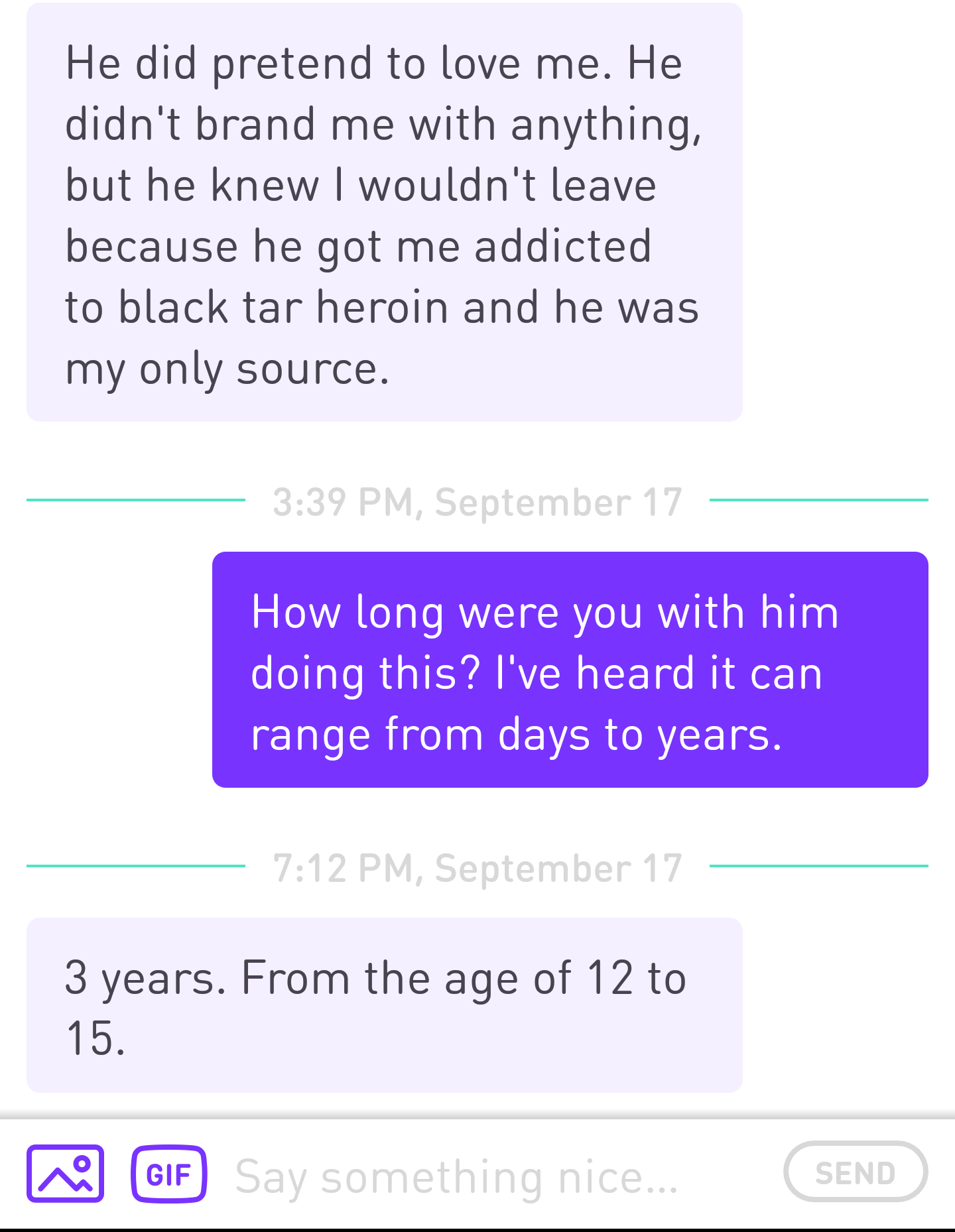 After logging into the app and creating a username, our team ran a search for the keyword, "trafficking". To our surprise, we found a comment posted by an anonymous user  who said, "I am a victim of child sex trafficking".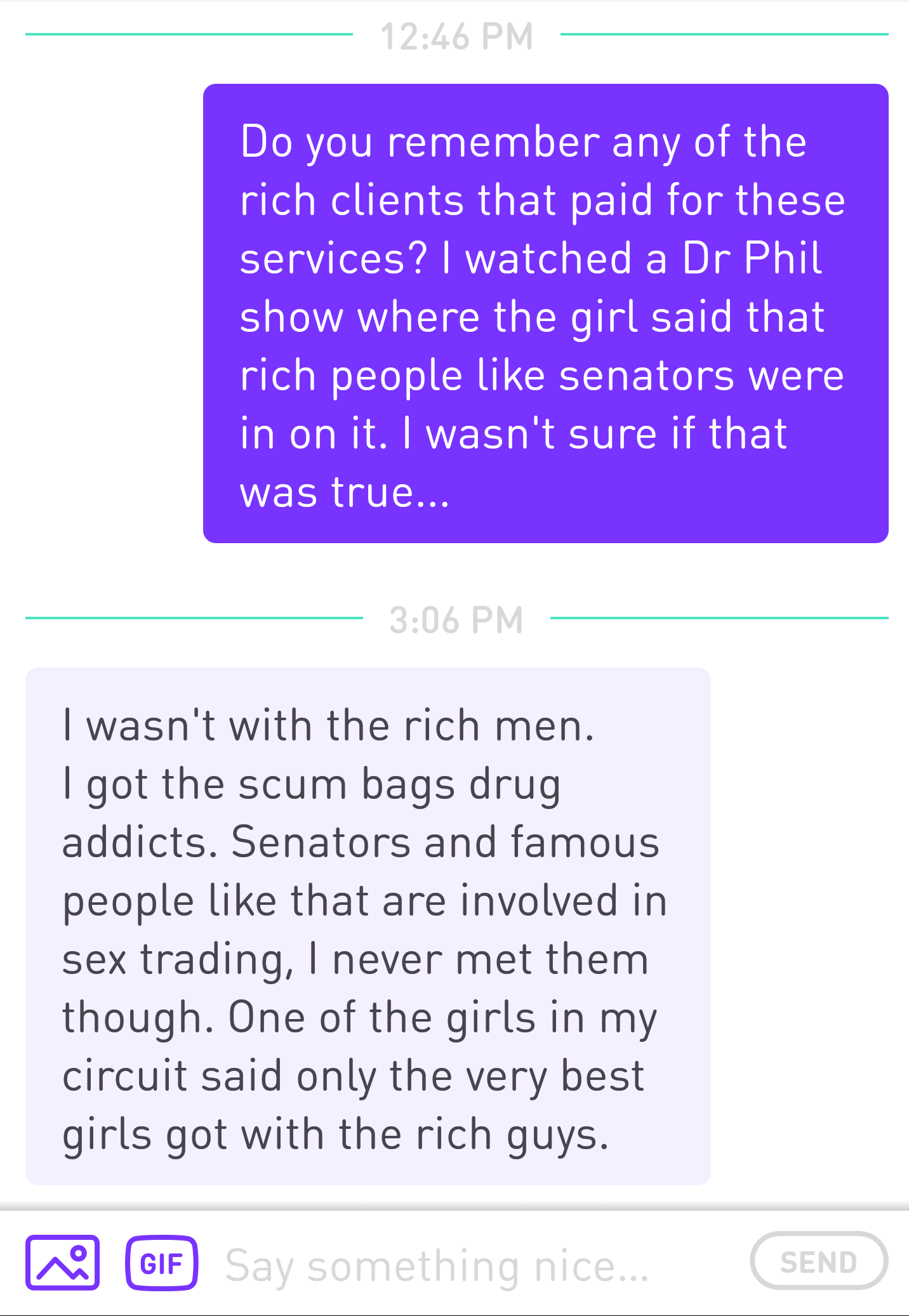 So we decided to contact this user and ask a few questions about her experience to see if she would be willing to answer. Since this application is widely known for its anonymity, we hoped to get a conversation going. We were in luck. We corresponded one-on-one through Whisper's private messaging service. See the screenshots in this blog. Her responses are in 'light purple' and our correspondence is in 'dark purple'.
In our conversation, the woman mentioned that she was addicted to black tar heroin because of her male pimp. She also addresses that senators and other famous people are involved in sex trading. Then she adds that she was not one of their clients because "only the very best girls got with the rich guys".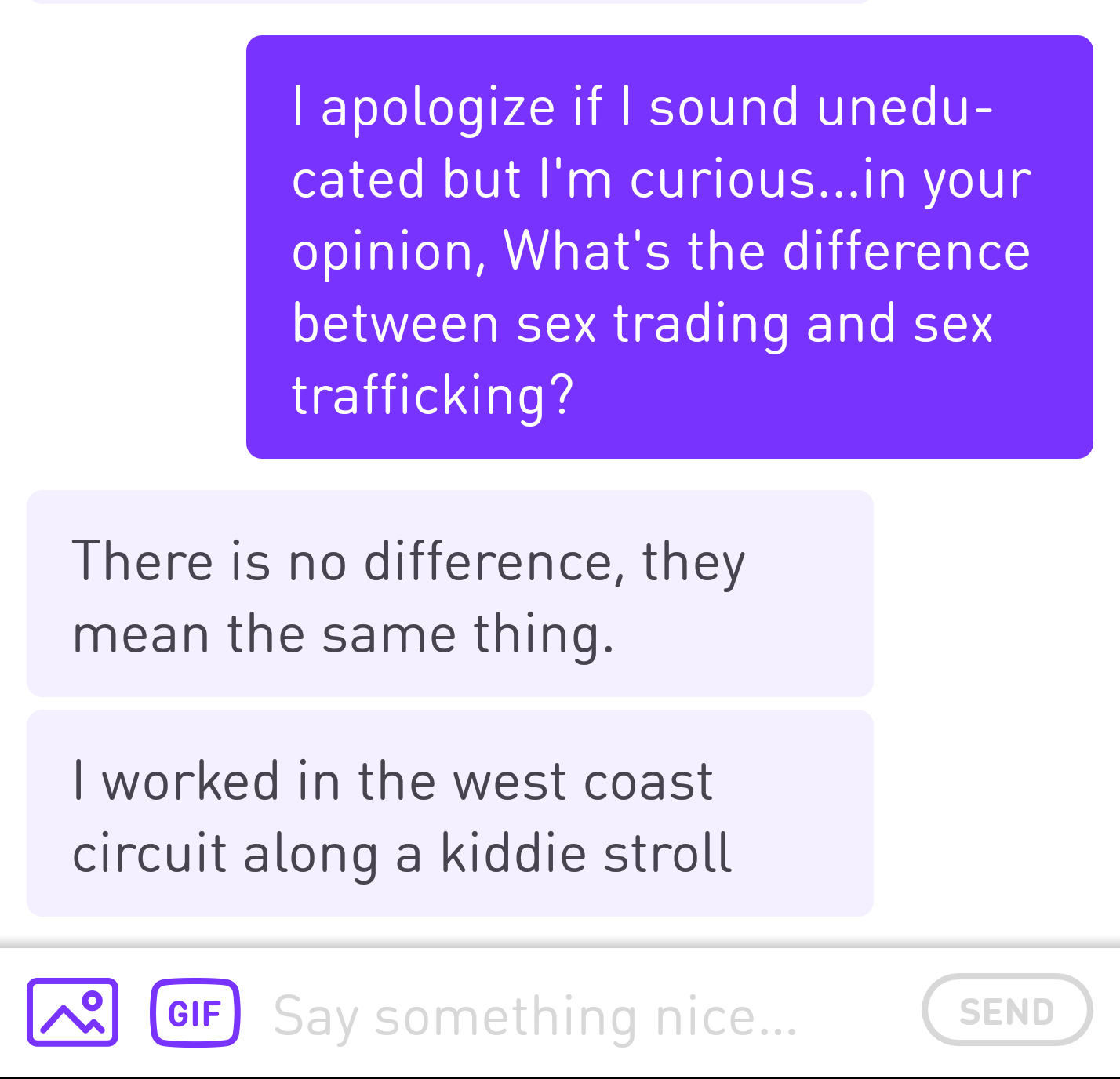 What is the definition of a 'kiddie stroll'? A 'kiddie' refers to a child. A 'stroll' is a place like a red light district where victims (younger teenagers and children) prostitute themselves and meet clients.
Human trafficking seems to be a very engaging topic to talk about on Whisper since there are multiple posts on the subject. Check out the 5 most disturbing posts that we found.
If you see suspicious images or statements online, report it to the Internet Watch Foundation.
Unlike many nonprofit organizations in the Midwest, United States and UK, the Internet Watch Foundation is one of few non-profits that has an online form with a website URL where you can easily copy and paste the image link. This is especially useful if you see disturbing pictures of underage youth or potential gang members or pimps on Instagram, Facebook, Kik, Twitter, or Snapchat. Click here to report content.  Or, click here to find out how to search for human traffickers on Instagram. 
Do you use Whisper and have a story to tell from firsthand experience with an stranger? Email us: SkepticalWorld@gmail.com 
Reference:
Slang and Urban Dictionary
Shared Hope International Terms
Detroit Michigan News: Tinder Phone App used for Trafficking 
Lansing Michigan Commission on Human Trafficking
Michigan State University Women's Resource Center